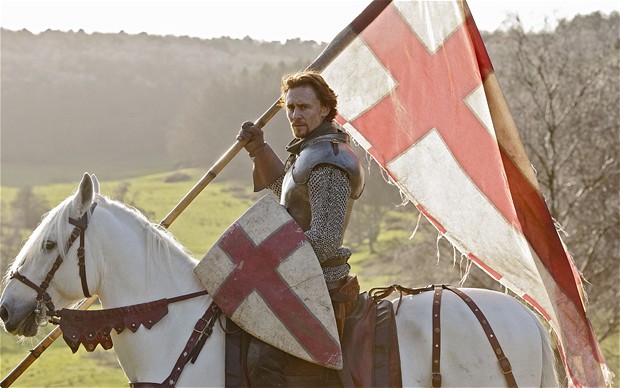 Characters (dramatis personae)
Henry and his family:

King Henry V
Duke of Gloucester, Brother to the King
Duke of Bedford, Brother to the King
Duke of Exeter, Uncle to the King
Duke of York, Cousin to the King

The conspirators in Southampton Plot

Lord Scroop, Traitor (Henry's bedfellow)
Earl of Cambridge, Traitor
Sir Thomas de Grey, Traitor

Officers in Henry's Army:
Gower (the Englishman)
Fluellen (the Welshman)
Macmorris (the Irishman)
Jamy (the Scot)
Henry's former confederates in crime (in Henry IV, Parts 1 and 2)

Bardolph
Nym
Pistol
Sir John Falstaff
Boy
Mistress Quickly

The French

Charles VI of France
Louis, the Dauphin
Constable of France
Duke of Orleans
Mountjoy, a French Herald
Katharine, Daughter to Charles and Isabel

Links
Definitions and Historical Facts:
Salic Law -- Salic Law (also known as patrilineal primogeniture) is the law which the French used to deny Henry's claim to French titles and lands, including the Crown. Henry claimed rights to these French holdings through his great-grandfather Edward III (King of England) and Edward's mother, Isabella (daughter of King Philip IV of France). Salic Law prevents men from inheriting through their mothers. The Archbishop of Canterbury convinces Henry that Salic Law does not apply to France.

Southampton Plot of 1415 -- A plot to kill Henry V before he left England to invade France. There is some debate amongst historians as to whether or not Henry's very close friend Lord Scroop was a conspirator or a double agent (spying for Henry). Scroop was arrested and executed along with 2 other conspirators.

Henry's prayer -- (see speech below: Henry Prays for Redemption); Henry V's father, Henry IV, deposed and murdered King Richard II in order to claim the throne. Henry V had been very close to Richard II (they were cousins) after Richard took care of young Henry during his father's exile. Henry therefore had every reason to mourn the loss of his cousin and was reluctant upon the death of Henry IV to assume the crown. In this prayer, Henry is hoping that God will make note of Henry's honorable treatment of the remains of King Richard and that God will not punish Henry's men for the sins of Henry's father.

Battles:

Siege of Harfleur -- August 18 - September 22, 1415

Battle of Agincourt -- October 25, 1415 (St. Crispin's Day)

The French outnumbered the British: 36,000 to 6,000

French fatalities: 10,000 (with 1500 taken prisoner)

British fatalities: 112
Discussion Topics:
Henry says that the Dauphin, in presenting him with the Paris balls, "comes o'er us with our wilder days, / Not measuring what use we made of them" (Henry V, I.ii). What use did Henry make of his wilder days?

Is Henry a Machiavellian ruler who knows how to manipulate people to achieve his ends? Or an idealist who must sacrifice personal desires to public duty?

Consider the four army officers (Fluellen, Gower, Jamy, and Macmorris) who represent the four lands united under Henry's rule (Wales, England, Scotland, and Ireland, respectively).

Consider Henry the public figure versus Henry the private man. Does Henry act differently in each of these roles? What are the constraints and advantages of each role? Think about his relationship with the friends of his wilder days, his wooing of Katherine, his soliloquies, and his roaming about the campsite in disguise.

Consider the depiction of the French.
Henry's famous speeches
Henry replies to the Dauphin's offer of tennis balls in exchange for Henry's claim to French land and titles

Scene: London, King's Palace, Presence Chamber (Act I Scene ii)

KING
We are glad the Dauphin is so pleasant with us;
His present and your pains we thank you for:
When we have march'd our rackets to these balls,
We will, in France, by God's grace, play a set
Shall strike his father's crown into the hazard.
Tell him he hath made a match with such a wrangler
That all the courts of France will be disturb'd
With chaces. And we understand him well,
How he comes o'er us with our wilder days,
Not measuring what use we made of them.
We never valued this poor seat of England;
And therefore, living hence, did give ourself
To barbarous licence; as 'tis ever common
That men are merriest when they are from home.
But tell the Dauphin I will keep my state,
Be like a king and show my sail of greatness
When I do rouse me in my throne of France:
For that I have laid by my majesty
And plodded like a man for working-days,
But I will rise there with so full a glory
That I will dazzle all the eyes of France,
Yea, strike the Dauphin blind to look on us.
And tell the pleasant prince this mock of his
Hath turn'd his balls to gun-stones; and his soul
Shall stand sore charged for the wasteful vengeance
That shall fly with them: for many a thousand widows
Shall this his mock mock out of their dear husbands;
Mock mothers from their sons, mock castles down;
And some are yet ungotten and unborn
That shall have cause to curse the Dauphin's scorn.
But this lies all within the will of God,
To whom I do appeal; and in whose name
Tell you the Dauphin I am coming on,
To venge me as I may and to put forth
My rightful hand in a well-hallow'd cause.
So get you hence in peace; and tell the Dauphin
His jest will savour but of shallow wit,
When thousands weep more than did laugh at it.
Convey them with safe conduct. Fare you well.

Henry Confronts Lord Scroop

Henry Scroop, 3rd Baron Scroop of Masham, Henry's "bedfellow"

Scene: Southampton council chamber. II.ii

KING
But, O,
What shall I say to thee, Lord Scroop? thou cruel,
Ingrateful, savage and inhuman creature!
Thou that didst bear the key of all my counsels,
That knew'st the very bottom of my soul,
That almost mightst have coin'd me into gold,
Wouldst thou have practised on me for thy use,
May it be possible, that foreign hire
Could out of thee extract one spark of evil
That might annoy my finger? 'tis so strange,
That, though the truth of it stands off as gross
As black and white, my eye will scarcely see it.
Treason and murder ever kept together,
As two yoke-devils sworn to either's purpose,
Working so grossly in a natural cause,
That admiration did not whoop at them:
But thou, 'gainst all proportion, didst bring in
Wonder to wait on treason and on murder:
And whatsoever cunning fiend it was
That wrought upon thee so preposterously
Hath got the voice in hell for excellence:
All other devils that suggest by treasons
Do botch and bungle up damnation
With patches, colours, and with forms being fetch'd
From glistering semblances of piety;
But he that temper'd thee bade thee stand up,
Gave thee no instance why thou shouldst do treason,
Unless to dub thee with the name of traitor.
If that same demon that hath gull'd thee thus
Should with his lion gait walk the whole world,
He might return to vasty Tartar back,
And tell the legions 'I can never win
A soul so easy as that Englishman's.'
O, how hast thou with 'jealousy infected
The sweetness of affiance! Show men dutiful?
Why, so didst thou: seem they grave and learned?
Why, so didst thou: come they of noble family?
Why, so didst thou: seem they religious?
Why, so didst thou: or are they spare in diet,
Free from gross passion or of mirth or anger,
Constant in spirit, not swerving with the blood,
Garnish'd and deck'd in modest complement,
Not working with the eye without the ear,
And but in purged judgment trusting neither?
Such and so finely bolted didst thou seem:
And thus thy fall hath left a kind of blot,
To mark the full-fraught man and best indued
With some suspicion. I will weep for thee;
For this revolt of thine, methinks, is like
Another fall of man.

Once more unto the breach – Henry rallies the troops at Harfleur

Scene: France, before Harfleur. III.i

KING
Once more unto the breach, dear friends, once more;
Or close the wall up with our English dead.
In peace there's nothing so becomes a man
As modest stillness and humility;
But when the blast of war blows in our ears,
Then imitate the action of the tiger:
Stiffen the sinews, summon up the blood,
Disguise fair nature with hard-favour'd rage;
Then lend the eye a terrible aspect;
Let it pry through the portage of the head
Like the brass cannon: let the brow o'erwhelm it
As fearfully as doth a galled rock
O'erhang and jutty his confounded base,
Swill'd with the wild and wasteful ocean.
Now set the teeth and stretch the nostril wide;
Hold hard the breath, and bend up every spirit
To his full height. On, on, you noblest English,
Whose blood is fet from fathers of war-proof-
Fathers that like so many Alexanders
Have in these parts from morn till even fought,
And sheath'd their swords for lack of argument.
Dishonour not your mothers; now attest
That those whom you call'd fathers did beget you.
Be copy now to men of grosser blood,
And teach them how to war. And you, good yeomen,
Whose limbs were made in England, show us here
The mettle of your pasture; let us swear
That you are worth your breeding- which I doubt not;
For there is none of you so mean and base
That hath not noble lustre in your eyes.
I see you stand like greyhounds in the slips,
Straining upon the start. The game's afoot:
Follow your spirit; and upon this charge
Cry 'God for Harry, England, and Saint George!'
Henry threatens to decimate Harfleur if it does not surrender.

Scene: Before the gates of Harfleur. III.iii

KING HENRY.
How yet resolves the Governor of the town?
This is the latest parle we will admit;
Therefore to our best mercy give yourselves
Or, like to men proud of destruction,
Defy us to our worst; for, as I am a soldier,
A name that in my thoughts becomes me best,
If I begin the batt'ry once again,
I will not leave the half-achieved Harfleur
Till in her ashes she lie buried.
The gates of mercy shall be all shut up,
And the flesh'd soldier, rough and hard of heart,
In liberty of bloody hand shall range
With conscience wide as hell, mowing like grass
Your fresh fair virgins and your flow'ring infants.
What is it then to me if impious war,
Array'd in flames, like to the prince of fiends,
Do, with his smirch'd complexion, all fell feats
Enlink'd to waste and desolation?
What is't to me when you yourselves are cause,
If your pure maidens fall into the hand
Of hot and forcing violation?
What rein can hold licentious wickedness
When down the hill he holds his fierce career?
We may as bootless spend our vain command
Upon th' enraged soldiers in their spoil,
As send precepts to the Leviathan
To come ashore. Therefore, you men of Harfleur,
Take pity of your town and of your people
Whiles yet my soldiers are in my command;
Whiles yet the cool and temperate wind of grace
O'erblows the filthy and contagious clouds
Of heady murder, spoil, and villainy.
If not- why, in a moment look to see
The blind and bloody with foul hand
Defile the locks of your shrill-shrieking daughters;
Your fathers taken by the silver beards,
And their most reverend heads dash'd to the walls;
Your naked infants spitted upon pikes,
Whiles the mad mothers with their howls confus'd
Do break the clouds, as did the wives of Jewry
At Herod's bloody-hunting slaughtermen.
What say you? Will you yield, and this avoid?
Or, guilty in defence, be thus destroy'd?

Henry is feeling the weight of his crown

Scene: France. The English camp at Agincourt. IV.i

KING HENRY.
Upon the King! Let us our lives, our souls,
Our debts, our careful wives,
Our children, and our sins, lay on the King!
We must bear all. O hard condition,
Twin-born with greatness, subject to the breath
Of every fool, whose sense no more can feel
But his own wringing! What infinite heart's ease
Must kings neglect that private men enjoy!
And what have kings that privates have not too,
Save ceremony- save general ceremony?
And what art thou, thou idol Ceremony?
What kind of god art thou, that suffer'st more
Of mortal griefs than do thy worshippers?
What are thy rents? What are thy comings-in?
O Ceremony, show me but thy worth!
What is thy soul of adoration?
Art thou aught else but place, degree, and form,
Creating awe and fear in other men?
Wherein thou art less happy being fear'd
Than they in fearing.
What drink'st thou oft, instead of homage sweet,
But poison'd flattery? O, be sick, great greatness,
And bid thy ceremony give thee cure!
Thinks thou the fiery fever will go out
With titles blown from adulation?
Will it give place to flexure and low bending?
Canst thou, when thou command'st the beggar's knee,
Command the health of it? No, thou proud dream,
That play'st so subtly with a king's repose.
I am a king that find thee; and I know
'Tis not the balm, the sceptre, and the ball,
The sword, the mace, the crown imperial,
The intertissued robe of gold and pearl,
The farced tide running fore the king,
The throne he sits on, nor the tide of pomp
That beats upon the high shore of this world-
No, not all these, thrice gorgeous ceremony,
Not all these, laid in bed majestical,
Can sleep so soundly as the wretched slave
Who, with a body fill'd and vacant mind,
Gets him to rest, cramm'd with distressful bread;
Never sees horrid night, the child of hell;
But, like a lackey, from the rise to set
Sweats in the eye of Pheebus, and all night
Sleeps in Elysium; next day, after dawn,
Doth rise and help Hyperion to his horse;
And follows so the ever-running year
With profitable labour, to his grave.
And but for ceremony, such a wretch,
Winding up days with toil and nights with sleep,
Had the fore-hand and vantage of a king.
The slave, a member of the country's peace,
Enjoys it; but in gross brain little wots
What watch the king keeps to maintain the peace
Whose hours the peasant best advantages.
Henry Prays for Redemption

The English camp at Agincourt Field, France. IV.iii
KING HENRY V
O God of battles! steel my soldiers' hearts;
Possess them not with fear; take from them now
The sense of reckoning, if the opposed numbers
Pluck their hearts from them. Not to-day, O Lord,
O, not to-day, think not upon the fault
My father made in compassing the crown!
I Richard's body have interred anew;
And on it have bestow'd more contrite tears
Than from it issued forced drops of blood:
Five hundred poor I have in yearly pay,
Who twice a-day their wither'd hands hold up
Toward heaven, to pardon blood; and I have built
Two chantries, where the sad and solemn priests
Sing still for Richard's soul. More will I do;
Though all that I can do is nothing worth,
Since that my penitence comes after all,
Imploring pardon.
St. Crispin's Day speech –"we few we happy few we band of brothers"

The English camp at Agincourt Field, France. IV.iii
WESTMORELAND.
that we now had here
But one ten thousand of those men in England
That do no work to-day!
KING.
What's he that wishes so?
My cousin Westmoreland? No, my fair cousin;
If we are mark'd to die, we are enow
To do our country loss; and if to live,
The fewer men, the greater share of honour.
God's will! I pray thee, wish not one man more.
By Jove, I am not covetous for gold,
Nor care I who doth feed upon my cost;
It yearns me not if men my garments wear;
Such outward things dwell not in my desires.
But if it be a sin to covet honour,
I am the most offending soul alive.
No, faith, my coz, wish not a man from England.
God's peace! I would not lose so great an honour
As one man more methinks would share from me
For the best hope I have. O, do not wish one more!
Rather proclaim it, Westmoreland, through my host,
That he which hath no stomach to this fight,
Let him depart; his passport shall be made,
And crowns for convoy put into his purse;
We would not die in that man's company
That fears his fellowship to die with us.
This day is call'd the feast of Crispian.
He that outlives this day, and comes safe home,
Will stand a tip-toe when this day is nam'd,
And rouse him at the name of Crispian.
He that shall live this day, and see old age,
Will yearly on the vigil feast his neighbours,
And say 'To-morrow is Saint Crispian.'
Then will he strip his sleeve and show his scars,
And say 'These wounds I had on Crispian's day.'
Old men forget; yet all shall be forgot,
But he'll remember, with advantages,
What feats he did that day. Then shall our names,
Familiar in his mouth as household words-
Harry the King, Bedford and Exeter,
Warwick and Talbot, Salisbury and Gloucester-
Be in their flowing cups freshly rememb'red.
This story shall the good man teach his son;
And Crispin Crispian shall ne'er go by,
From this day to the ending of the world,
But we in it shall be remembered-
We few, we happy few, we band of brothers;
For he to-day that sheds his blood with me
Shall be my brother; be he ne'er so vile,
This day shall gentle his condition;
And gentlemen in England now-a-bed
Shall think themselves accurs'd they were not here,
And hold their manhoods cheap whiles any speaks
That fought with us upon Saint Crispin's day.